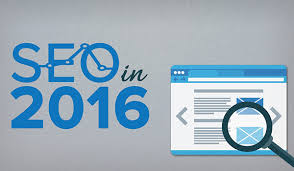 The world of Search Engine Optimization is always changing. A trend that happens today may completely change the next. SEO continues to be an affordable way to send relevant traffic to a company website
Based in Markham, we've had the pleasure of providing SEO consultation services for clients throughout Toronto and surrounding areas. Big or small, our clients want to incorporate the latest SEO strategies into their online market mix.
In this blog post we decided to take a look at six emerging SEO trends that we've noticed so far in 2016. These strategies, along with established SEO practices will help get your website ranking in Google.
2016: The Year of Mobile
How often do you check your phone during the day? If you're like most people, it's probably hard to keep track. Mobile devices continue to be an essential part of an average Canadian's day-to-day life.
Many of our clients are finding that people use phones to access their websites more than traditional desktops.
This is a trend that Toronto business owners need to pay attention to. During April last year, Google recently changed their entire algorithm to reward sites with 'mobile friendly' designs and penalize the sites that do not.
Your website should present the same content, regardless of the size of the reader's display. We work with clients to ensure their websites look great on any device. It's also important to make sure everything loads quickly and can be easily crawled by Google and other search engines.
People Are Asking Google Questions
Another big trend that's happening is an increase in the amount of rich answers appearing in Google's search engine results page (SERP). Basically, a rich answer is an attempt by Google to answer a question someone searched for without requiring a click to an external website. Locally, there's been a huge increase in rich answer content appearing in Google over the last year.
Having your content appear in Google as a rich answer is an amazing way to generate some high quality online traffic.
The best way to have your site referenced to provide a rich answer is to regularly post detailed and informative online content. You need to establish your brand as the online source of information within your market. Focus your content on answering common questions. The more detailed information you post, the more likely it will be used for rich answers in Google.
Use Structured Data
Google can sometimes have a hard time reading HTML and other online code, structured data is the best way to solve this problem. Structured data clearly labels your website's code so that Google can quickly read, understand and rank it.
We're seeing more and more business achieving SEO success by incorporating structured data into their website's code. It's important to use structured data to clearly explain the meaning of a page's content.
When They Ask Questions, Answer Them
As mentioned before, people are typing their questions into Google and expecting a quick and reliable answer. It's important to pay attention to common questions your customer ask you (both off line and online) and use this information to write your content. Social media can be a great source of ideas. Focusing on answering common questions with your content will make you a hit with both your online audience and Google.
Remember, detail is your best friend. Be sure to include lots of it. In addition to ranking better you'll establish your brand as a trusted source of information with your market.
Optimize Your Site for Your Own Backyard
Geo-targeting your website for your local area is a very important SEO strategy. People want local information and Google is working hard to provide it. They've done this by making their algorithm more geo-centric. It's important to include localized information such as your city name and phone number in your site's content, META tags, titles and even filenames. The more localized you can make your site, the better. People want to visit local websites, it allows them to identify with your brand much quicker.
Localized traffic tends to convert very well. We've found that a lot Toronto and area web traffic comes from mobile devices, so it's important to have a clean mobile design with strong Call to Actions.
Data is Your Best Friend, Listen to It
Tools such Google Analytics allows you the ability to constantly view and make data driven marketing decisions. People are telling you every day what they think of your online marketing with the click of a mouse or the tap of a thumb, it's important that you pay attention.
Google Analytics is only the beginning. There are a lot of excellent tools on the market that allow you the ability to collect and understand your marketing data. Some are free and some will come with a cost. It's important to have access to as much data that's relevant to your business. Combining analytics tools with your CRM data can really give you a marketing advantage and help you budget your marketing spend properly.
SEO is an ever-changing thing. Throughout our time providing SEO consulting services to businesses in Markham and Toronto, we've seen many changes first-hand.
At the end of the day, companies succeed at SEO when they provide a user-friendly online experience with noteworthy and interesting content. Staying on top on SEO trends allows your business to have a strong competitive advantage in your market.