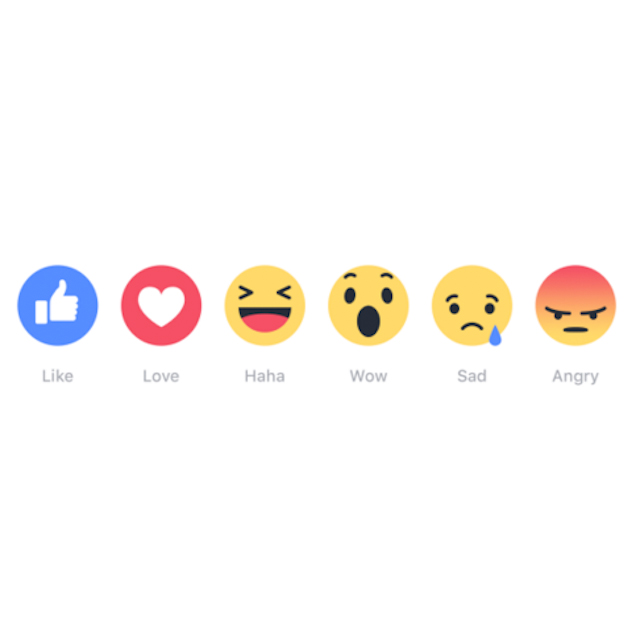 Six Different Ways to Interact With Your Social Media: How Toronto Brands Should Use Facebook Reactions
You've probably seen them. It's finally happened after years of talk, Facebook's new emoji reactions now allow for five different post reactions.
You and the 1.5 billion other Facebook users are now no longer limited by a simple 'like', you can can now post a heart (for love), a laughing face (for laughter), a surprised face (for surprised), an tearful face (for sad), a red face (for angry) and the classic thumbs-up (for like). Facebook is calling these new emojis Reactions.
This is maybe the biggest update to the Facebook platform that we've seen this decade. Sure, Facebook is constantly launching new features, but this is an update for everyone. It doesn't matter if you use a desktop, tablet or a phone. If you have a Facebook account you now have a lot more ways to react to another person's Facebook post. That explains why these playful cartoon symbols are quickly taking over the Internet.
This new functionality has been a long time coming. Ever since launching the 'Like' function in the fall of 2009 the company has been fielding questions regarding a 'Dislike' button.
We've seen similar emojis on other online platforms, but with Facebook's popularity across all demographics, many will be using them to communicate for the first time.
Let's face it, not every moment in life is a positive event. The ability to convey more than one emotion such as empathy or frustration is a natural human reaction. Facebook and other social media platforms work hard to integrate with our day-to-day lives, the ability to mirror the diversity of human emotion is an important factor in this marriage.
"We understand that this is a big change, and want to be thoughtful about rolling this out. For more than a year we have been conducting global research including focus groups and surveys to determine what types of reactions people would want to use most," said Facebook in a blog post. "We also looked at how people are already commenting on posts and the top stickers and emoticons as signals for the types of reactions people are already using to determine which reactions to offer."
Facebook did their homework. They consulted with professors at the University of California to develop emojis that were relatable and expressed a good snapshot of human emotion. The professors who specialized in non verbal communication found that a simple 'Like' button is very limiting. For example, 'Liking' a post or photo about a friend losing a loved one doesn't seem to be an appropriate gesture. The new 'Sad' emoji button allows the ability to communicate a more fitting gesture.
The Internet has taken Facebook Reactions to a new level over the last few days. Feeling limited by the six emojis introduced by Facebook, some cleaver folks have developed hacks that allow you to post custom emojis. With only a couple of clicks you can download a browser extension and post emojis featuring sets of Pokémon, Donald Trump and even our own Prime Minister Justin Trudeau. It's all in fun, but it does show the magnitude of Reaction's impact on Internet communication.
As a Markham based online marketing agency we're excited about the opportunities the new emojis present to Toronto businesses.
Many big brands have fully embraced the Reactions on their company Facebook Pages. We're seeing everyone from Dominos Pizza to General Electric now utilizing them.
Chevrolet was one of the first brands to utilize Reactions as part of a social media campaign. They've launched a major campaign asking people to 'love' the 2016 Malibu.
Facebook's Reactions will provide a new understanding of how people feel and interact with your brand. The emojis provide a great way to express feelings quickly. A simple click of a mouse or a tap of finger can articulate how people feel about your brand or a post you've made.
It's important to encourage your social media audience to use Reactions by using them yourself in the content you post to your Facebook Page.
It's also fair to note that not all reactions may be positive. A red angry emoji can quickly lead to dozens more. Perhaps it's more important than ever to stay connected to what's happening with your social media and to quickly handle negative experiences. Remember, our brains can communicate anger and frustration much quicker with the minimal effort it takes to post a emoji as opposed to text.
This added feedback could be a blessing for customer experience minded companies. Brands can quickly reach out to people posting negative emojis and provide a new level of online reputation management. This can lead to happy customers and new initiatives that can attract new customers.
We're really excited about the possibilities Reactions open up for creative brands. Imagine a comedy club launching a 'laughing' face campaign, or a not-for-profit equality group engaging followers to post 'angry' faces against a negative thing they're fighting against.
Ideally, the increased ease of engaging with Facebook content will lead to a better insight into what your audience likes and doesn't like. This information can be extremely valuable and can help you develop future marketing initiatives. Measuring the emojis people use in addition to traditional metrics from Facebook Insight and Google Analytics will allow your company the ability to properly measure and react to your Facebook data.
It's still unclear how Reactions will effect how Facebook Ads are ranked and presented. Currently, Facebook weighs all emoji posts the same, a 'Like' is valued the same as an 'angry' or 'sad' face, but that could change at some point.
Overall, the same social media rules apply to Toronto businesses that existed weeks ago. Post engaging content, post regularly, measure and create a Facebook Page that promotes two-way communication. Facebook's recent launch of Reactions is a great tool to increase audience engagement. Have fun with the new emojis on your company Facebook Page and your followers should do the same!