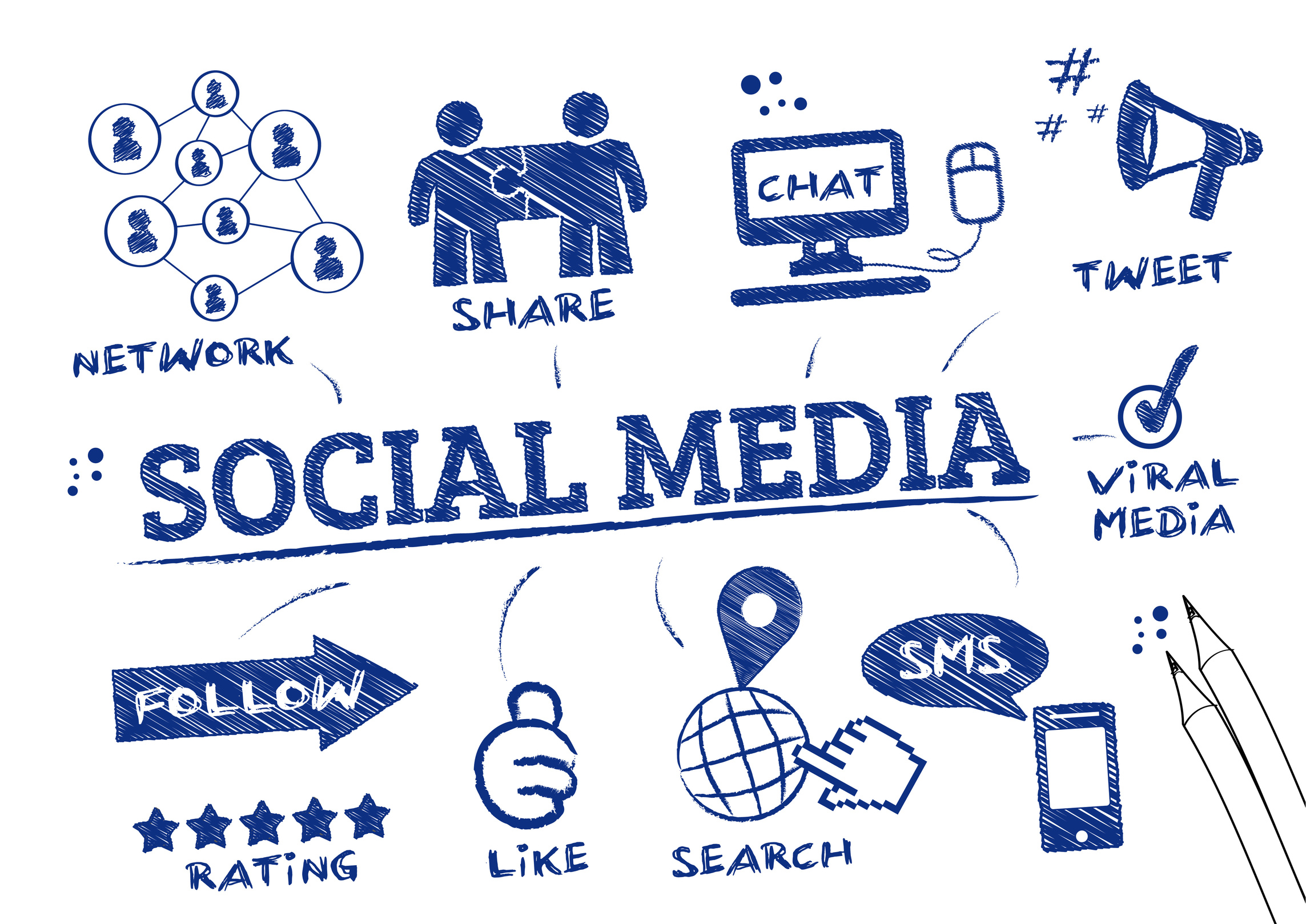 Since the outbreak of COVID-19 the staff at Insiteful Solutions has been busy helping our clients in Markham and across the GTA ramp up their e-commerce sites and update client websites with the latest news and information related to the virus. The past stressful weeks have taught us more than ever the need to be prepared; we were fortunate that the majority of our staff were already working remotely so we could change our operations seamlessly.
One of the areas we have been most busy is advising clients on their use of social media. In the early days of COVID-19, with everything happening so quickly, social media channels turned out to be the fastest way our clients could communicate effectively with their customers.  To give you some idea of the reach of social media in Canada, it estimated that 64% of Canadians have a social media account and over 50% of Canadians are registered to one or more social media platforms. 70% of social media users said they logged on at least once a month.
The popularity of social media makes it a perfect medium to reach people in a crisis. With many provinces, including Ontario, ordering virtually all public activities to close suddenly to flatten the COVID-19 curve, businesses were left scrambling to figure out their new operations. Many businesses, such as restaurants and certain retailers, were able to transition to curb-side pick-up or delivery. Others were left not knowing how they were going to alter their operations to serve their customers. With all of this confusion it was a comfort for both business owners and their customers that they could keep in touch via social media. At Insiteful Solutions we help clients with all of their digital marketing needs; from building websites to their social media platforms, we make sure our clients are up today with the most recent trends and changes to the industry.
With the unprecedented times we are living in we have found the following to be helpful advice to our clients for their social media platforms. With the news changing almost daily it can be difficult for business owners to strike the right tone: hopeful or somber? Idealistic or realistic? While there is often no 'right way' to communicate with your customers via social media we have found that if you post content that is deemed insensitive it can negatively affect your brand. The following can hopefully serve as a guide or refresher on how to approach your clients on social media during a crisis.
Who you are in a Crisis?
Great brands and businesses are a result of great leadership and teamwork. The best businesses understand their customers and how to communicate with them. During a crisis is time to connect with your customers on a personal level; with something as serious as a global pandemic it's crucial that you reach out and stay connected. The values that built your brand can also be on display. We advised our clients not to 'sell' anything to their clients with their early social media posts – no one wants to be sold to during a crisis. While some business people had the instinct to shutter their social media accounts we advised people to keep the lines of communication open. With people suddenly isolated and their worlds upended they need human contact, even if it's over social media.
Know Your Audience
Many businesses post to their social media channels without fully knowing who their audience is. Fortunately companies like Facebook, Instagram and Twitter have done the analytical work for you and you can easily tap into this data to learn more about who is viewing your social media platforms.  Knowing your audience is always important, but especially so during a crisis. Are you catering to the healthcare industry and you have many followers that are frontline workers? Then you would tailor your message to this industry. You want to make sure your social media content is reflective of your audience, that way you can curate your content to grab their attention. During a crisis is a key time to connect with new and old customers.
Be Sensitive to the Times
In 2014 the clothing brand American Apparel created a social media faux pas that is still being talked about. On July 4 of that year a well-meaning person in their social media department posted a July 4 greeting on the company's social media platforms. The greeting was accompanied by an image of a plume of white cloud against a blue sky. The staffer thought the image was fireworks exploding – it wasn't. It was actually a photograph of the Challenger Space Shuttle exploding shortly after takeoff – a fatal incident that occurred in 1986. The American Apparel post has been used ever since on what not to do on social media.  With the onset of COVID-19, many businesses began to struggle, while we advised clients to quickly improve their e-commerce offerings and switch to delivery or curbside pick-up we also advised them to understand the humanitarian aspect of these times and do what they could to assist others who may be struggling. Communicating the human side of your company during a crisis will let your customers know that your company cares.
Keep on Top of the Changing Landscape
COVID-19 has been challenging in more ways than one. It seems that daily the news about the virus changes and governments (and businesses!) are left scurrying to keep up. While most companies have a solid social media marketing calendar based on their business plan, times of crisis may have caused their plans to be paused or put on a complete hold. One industry especially hard hit by COVID-19 has been the restaurant and hospitality industry. With guidance from governments constantly updated restaurants have had to keep in touch with their customer. Being fluid in your planning and accurate with your information allows you to continue to control your brand messaging – even during a crisis.
Be Human
A distinct aspect of COVID-19 has been how it has affected everyone globally. While these times of crisis can be extraordinarily stressful it can also be a time to bring people together. While your customers will want to know the core information about your business and its operations, they will also appreciate a human touch to communications during this time. Don't be afraid to communicate with customers on a more personal level.
At Insiteful Solutions we have worked for nearly 20 years with clients in Markham, the GTA and across Canada on all aspects of digital marketing campaigns including social media. Give us a call today to learn more about how we can help your business navigate this current crisis.