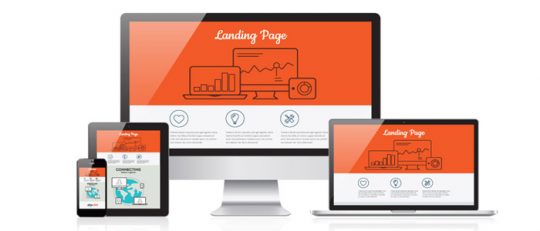 Understanding How to Build a Landing Page That Converts and Generates Online Business
Landing pages are one of the most important elements of an online marketing campaign, yet many businesses create pages that are lacking. A landing page is your customer's first experience with your brand after they've seen one of your ads, read a social media post, or clicked on an organic search result. Your landing page needs to be flawless and entice visitors to travel further into your conversion funnel. If your landing page isn't working, people who would normally purchase or subscribe are going to disappear from your website, wasting a lot of your time, energy and money.
The best landing pages are simple, yet they are money-making conversion machines. You want your landing pages to speak to your customers and make them excited to learn more about what you offer. We've helped a lot of clients throughout Markham, Richmond Hill and Toronto achieve their marketing goals with high-converting landing pages since we first opened our doors in 2002. During this time, we've learned a lot, and many of the landing page tips we're going to discuss in this post will instantly help your website generate more business.
Think Mobile First – Make Responsive Landing Pages
More and more people are viewing your online content from their mobile device, yet it's amazing how many businesses create landing pages that look horrible on the screen of a phone or tablet. Creating a responsive landing page is one of the most important and easiest things you can do to instantly improve your online sales. It's estimated that a mobile-optimized website design can actually triple your chances of getting someone to purchase or subscribe online and can increase your conversion rate by five percent.
Mobile-friendly pages also appear higher in Google search engine results. Google has been making various updates to make their search engine algorithm better and many of them are geared towards rewarding sites with a strong mobile design with higher rankings. People who land on your site organically after doing a search on Google are some of the most high-converting visitors you can get, and it doesn't cost anything to get them to your website.
Less is More – Get to the Point
Your landing page should be a lead producing machine, too many words and design elements can get in the way. Remember, a lot of people are viewing your landing page on a mobile device and there isn't a lot of space on their screen. Every time someone needs to scroll down on your page, they need to utilize their working memory to access the information they've already read. People have a limited amount of working memory and using it takes work, not something you want your visitors to do so early in the funnel.
Make your content concise and value-oriented, make people understand your unique selling propositions without needing to look for it. Bullet points can be an effective way to make your brand benefits stand out and get people excited to learn more. Start your list with your strongest selling asset and work your way down, try to keep the list to five-to-seven points.
Create a High Level of Trust
Establishing a high-level of trust is critical in the early stages of a website visit. People need to know that your company is trustworthy before they will even think about doing business with you and they are looking for proof that you are legit on your landing page.
A strong landing page will often have testimonials, badges, social media logos with links and various other elements that provide instant credibility. Providing evidence of your trustworthiness will encourage a sense of subliminal confidence as they continue to interact with your brand. Avoid relying on filler words such as saying you're the best or that you are trusted – instead show it with customer testimonials.
Test Your Landing Page with A/B Testing
Your work isn't over once you've uploaded your landing page to your site, it's now time to test it out and make sure it works well. A/B test is the best way to truly understand if your landing page can actually drive people to convert on your site.
An A/B test will allow you the ability to show how people react to the various elements of your website. You may be surprised to find that even something as simple as changing the colour of a button or shortening the wording of a headline can instantly improve your conversion rate.
Create Call-to-Actions That Work
Landing pages must have captivating and clickable call-to-action (CTA) buttons that make people want to purchase or sign up for the product or service your site offers. Ideally, you'll want to place your CTA buttons on the top or bottom of your landing page, you don't want people to scroll to find them. Keep your buttons large enough that the average thumb can easily tap them on a phone. You'll also want to make the buttons stand out by using a colour that makes them pop-out from the site's background.
Adding forms can be another effective way to generate leads from your landing page. Try to keep the forms simple, typing a lot of information isn't enjoyable on a mobile device. Only ask for the information you really need to get the customer through the sales funnel.
You understand your customers and what drives them, use this knowledge to design a landing page that encourages them to do business with you. Need some more help? Our Markham online marketing firm will gladly help you create landing pages that generate sales and subscriptions; getting you the best results from the money you are spending on Internet advertising. Learn more by contacting us today.