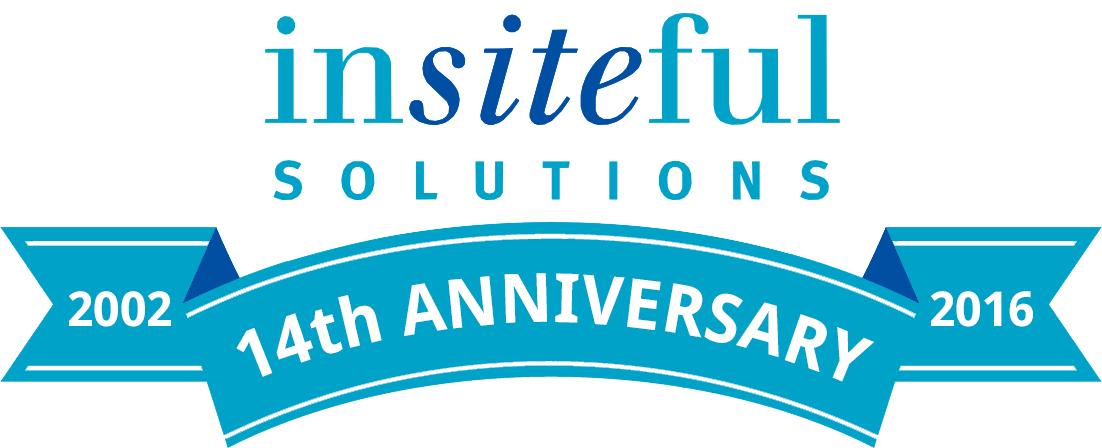 Insiteful Solutions – Celebrating 14 Years
Insiteful Solutions – Celebrating 14 Years of Providing Website Development, Design and Online Marketing in Markham, Toronto and Surrounding Areas
It really doesn't seem that long ago. The Leafs were battling it out in the Eastern Conference Finals, televisions were turned to American Idol, and Apple was just beginning to make iPods. There were a lot of things happening 14 years ago, including the beginning of Insiteful Solutions.
The goal was simple. Provide professional Internet marketing, design and development services for big and small clients. We started serving businesses in our own backyard of Markham. Really, it was about relationship building. Provide excellent customer service, exceptional work and become partners in our client's success stories. It's a philosophy that worked out well, we still work with clients that were with us in the beginning.
There's been many changes to our industry over the last 14 years. There's almost too many to list: mobile websites, search engine advertising, social media, online video streaming, and dozens more. Something that hasn't changed is the importance of storytelling and building a strong brand. It's hard to build an online brand if you're not doing anything interesting. The methods and tools are different, but everything we do is still rooted in strong branding.
"This is an exciting time in the online marketing world," explained Jess Joss, owner and founder of Insiteful Solutions. "Every day presents new opportunities to expand our client's digital presence. We have a strong team that's able to provide our clients with all the development, web design and marketing tools needed to succeed."
We've accomplished some exciting things over the last year. Our website was completely redesigned, we've gained some new and exciting clients, our team has grown and we've helped create some really great work that we're all proud of.
"The relationships we have with our clients really separates us from anyone else," said John Brown of Insiteful Solutions. "We take a lot of pride in the quality of work we provide to each of our clients and I think that's why many of our clients have been with us for years."
It's been 14 amazing years of creative work and we're looking forward to the many more projects ahead with both existing and new clients. We'd like to take this opportunity to thank the many clients that we've had the privilege of working with over the last 14 years and we value your business. It's been a blast so far and the future looks even brighter.